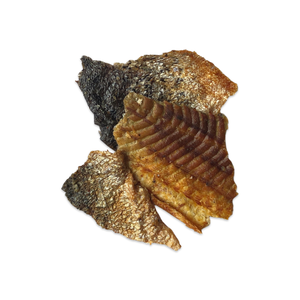 WREN Brands
SALMON CRISPS
Salmon Crisps are savoury treats that are carefully selected for quality and freshness, slowly air dried for optimal nutrition and texture. Rich in calcium and essential omega 3 and 6 oils.
 .
Popular with dogs and cats.
.
100 g net / package
One ingredient product. No added sugar, salt or additives.
Note: May not look exactly as shown as individual ingredients from different sources or suppliers as well as the seasons may influence or contain a variety of properties like textures and natural colours that may affect the look
with each batch. However, we do not compromise the quality of our 
products.