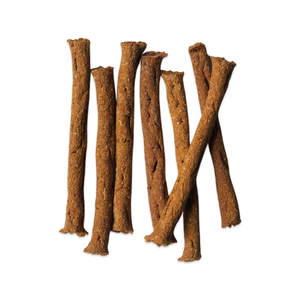 WREN Brands
CRUNCHERS / COCONUT + SWEET POTATO
This treat, we may say is a cross between a piece of stick and a biscuit. Your dog will probably not care as long as it's deliciously satisfying.
Seriously crunchy with a hint of sweetness from sweet potato and health benefits of coconut in an alluring stick form. This one is a little more brittle than the other two flavours. Your dog won't be able to resist this treat. After one stick, they will be doing every trick in the book to get another. Healthy, low calorie treat that will help clean your dog's teeth. Great digestional aid, for healthy skin and coat.
.
Easily breaks into smaller pieces for smaller pups.
.
One of five flavours from the CRUNCHERS series. ...Why not try all five?
200 g net / package (Approx. 10 sticks)
.
Note: May not look exactly as shown as individual ingredients from different sources or suppliers as well as the seasons may influence or contain a variety of properties like textures and natural colours that may affect the look
with each batch. However, we do not compromise the quality of our 
products.