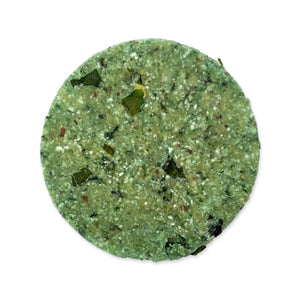 WREN Brands
SPINACH KALE PEPITA
WREN Brands KUKKI collection are carefully curated powerhouse of micro-nutrient dense foods for optimal health and nutrition. Each flavour profile is exciting for the palate of every discerning canine. Slow dehydration process retains the nutritional value of the raw and healthful properties of every ingredient.
Helps firm up stool, deliver essential micro-nutrients from inside to out, head to tail.
.

FOR OVERALL HEALTH + SKIN & JOINTS
Spinach is rich in iron, antioxidants and beta-carotene with roughage that is good for the gut.
Kale is a nutrient dense vegetable with benefits promoting canine's eye, skin and joint health with powerful antioxidants and dietary fiber.
Pepita includes macronutrients that provides energy, boosts essential minerals including iron and zinc for proper tissue function, promotes healthy cell growth and nourishes immune system.
Spirulina is a great source of vitamins and minerals, improve digestion and gastrointestinal health.
Flaxseeds are rich in source of omega-3 fatty acids which is tied to improved circulation and anti-inflammatory effects, promotes skin and joint health. It is loaded with nutrients, fibre and protein, a nutritional powerhouse. Flaxseeds are gound for better absorption of full nutrients within.
.
120 g net / package
VEGAN & GRAIN FREE
Flavour profile: 

spinach. kale. seaweed. chickpea flour. organic coconut flour. organic buckwheat flour. organic ground flaxseed. pepita meal. organic spirulina. organic coconut oil. organic banana.
Note: May not look exactly as shown as individual ingredients from different sources or suppliers as well as the seasons may influence or contain a variety of properties like textures and natural colours that may affect the look
with each batch. However, we do not compromise the quality of our 
products.