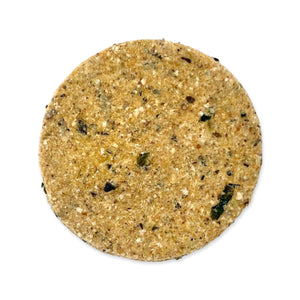 WREN Brands
PUMPKIN DANDELION SESAME
WREN Brands KUKKI collection are carefully curated powerhouse of micro-nutrient dense foods for optimal health and nutrition. Each flavour profile is exciting for the palate of every discerning canine. Slow dehydration process retains the nutritional value of the raw and healthful properties of every ingredient.
Helps firm up stool, deliver essential micro-nutrients from inside to out, head to tail.
.

FOR OVERALL HEALTH + SKIN & JOINTS
Pumpkin is a nutrient rich food that is low in calories but packed with essential vitamins and minerals such as vitamin C, iron, phosphorus, magnesium and folate. Aside from high vitamin A concentration for eye health, it is rich in potassium, which regulates blood pressure, improves muscle health and assist your dogs' metabolism. 
Dandelion greens offer a broad spectrum of medicinal and nutritional applications and is a very good whole body tonic for your dog. Loaded with iron, phosphorus, manganese, vitamin A, C, B complex, D and K. Rich in calcium as well as trace minerals. Great for heart, kidney health and liver health.
Sesame seeds are ground to utilize the full benefits within. They are a vitamin powerhouse with a protein punch. These seeds are a good source for healthy skin and coat, digestional aid, and supports overall health and immunity.
.
110 g net / package
VEGAN & GRAIN FREE
Flavour p

rofile: pumpkin. dandelion greens. ground black and white sesame seeds. organic buckwheat flour. chickpea flour. organic coconut flour. nutritional yeast. cinnamon. organic coconut oil.
Note: May not look exactly as shown as individual ingredients from different sources or suppliers as well as the seasons may influence or contain a variety of properties like textures and natural colours that may affect the look
with each batch. However, we do not compromise the quality of our 
products.